How to Define Zip Codes by Market
An easy step-by-step guide on how to apply specific ZIP Codes to Craigslist Markets within the 'new audience' creation process
webmaster
Last Update a year ago
When creating a new audience* in RocketPost, default ZIP codes are applied to each market by Craigslist. While very efficient for most RocketPost users, you also have the ability to define and target your audience to a ZIP code of your choosing. This option gives you additional control of your ad's location on the map.
See below for step-by-step instructions on how to apply a specific ZIP code to a Craigslist market within the 'New Audience' creation process.
How to:
STEP 1: Click the 'Audiences' tab in the header
STEP 2: Click 'New Audience' button
STEP 3: Create your unique audience name & choose your Craigslist category
STEP 4: Search for your market by name or ZIP code and radius
STEP 5: As you select each market, the default market box to the right will become editable
STEP 6: If you choose to enter a new ZIP code, it will stay applied during the creation session unless you delete and remove it. At that time, it will revert back to the default ZIP code for that market
STEP 7: If you do not need to edit the ZIP code, no further action is needed as the Craigslist default remains active
STEP 8: Once your audience is complete, click 'Create Audience' button
*Unique ZIP codes are applied to a 'New Audience' only, existing audiences are unable to be adjusted outside of the title.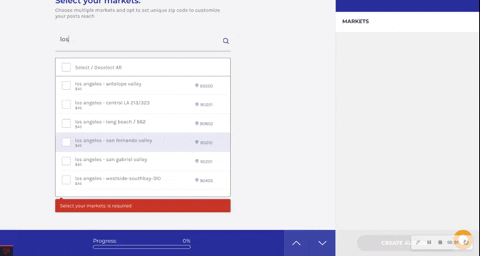 FAQs
- Can I apply a zip code that is outside of the markets' area?
You cannot place a higher market-priced zip code into a market with a lower market-price. This will cause your post to fail and is against Craigslist rules and regulations.
- Can I apply one zip code to multiple markets?
No. As this can cause your posts to fail and could be deemed against policy due location and market pricing conflicts.
- Can I update my current audiences and apply adjusted zip codes?
No. Not at this time. You will need to create a 'New Audience' to adjust their zip codes by market.
- Will the zip code I apply to a market stay that way forever?
No. Just within the unique audience you've created. When you choose 'new audience' again, zip codes have been reset to allow for a new variation.
If you have any additional questions related to this article, feel free to contact our RocketPost Success Team via Chat or email: [email protected]